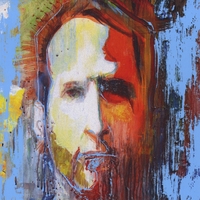 Miles Nielsen "Miles"
The apple doesn't fall far from the tree, where the son of Cheap Trick guitarist, Rick Nielsen has broken out on his own. Musically, Miles uses Beatles bounce, country twang, and clean production to create a pleasant pop/rock sound. The experience is like hearing The Wallflowers and Big Star jamming with The Jayhawks. It opens with the immediate "A Festival" and casual "Gravity Girl" and both songs are catchy and sincere with smart guitar rhythms and organ support. The folky "Lost My Mind" is a gorgeous ballad that suits Miles rough vocal well. His vocal sound remind you of his dad a bit (Julian Lennon had that issue too). But best tracks lie at the heart of the album's middle. The excellent "1938" has that Beatlesque bounce and "Don't You" has an energy filled melody on par with The Kinks. The laid back tracks dominate the latter part of the album, and "Good Heart Sway" has a sweet chorus that plays nicely against the melancholy theme. Miles wears the troubadour tag well in the more folk inspired songs. Fans of Josh Rouse, Tom Petty and Bob Dylan will also surely enjoy this uplifting debut.


MySpace | CD Baby | Miles site
Big Fresh "B.F.F. (Big Fresh Forever)"
Lexington, Kentucky popsters Big Fresh have been opening for The Apples in Stereo and spreading their alt. pop manifesto to the head-bopping masses. Mastered by The Apples man himself (Robert Schneider) this ambitious tapestry of danceable tracks, bubbling soundscapes, electric light harmonies and synthetic orchestrations will take you to a new planet. Run by John Ferguson (guitar) and Ben Phelan (keyboards), it slowly unfolds with the organs on "Secret Public" then goes into a faux radio signature "W.L.U.V." The album plays like some mutant Elephant Six version of Frank Zappa, Devo and Radiohead combined. Some gems are sitting amongst the strangeness, like the pop new wave bounce of "W.T.O." and the campfire sing-song of "Joy Bomb#1." Like a similar band, Team Genius it gets far on sheer atmosphere and with Schneider's help it holds your interest across 13 tracks.  Unfortunately, repeatability is a problem here – I did not feel that compelled to listen to more than a few tracks again. However, if you are an Apples in Stereo completist, this is essential.