Martin Carr "The Breaks"
Former Boo Radley frontman and songwriter Martin Carr returns to action with "The Breaks" a solo album about not fitting in and not getting what we want. Carr's polished single "The Santa Fe Skyway" has orchestra flourishes and his bright British vocal is comparable on this side of the pond to someone like Allen Clapp (The Orange Peels).
"St. Peter In Chains" is a great narrative pop theme with a solid beat and hummable chorus, and "Mainstream" brings us a "poison lullaby" about no longer being an "alternative" musician. "Mountains" and "Sometimes It Pours" are both subtle studies of melodicism and personal observation. "Senseless Apprentice" has a great guitar and organ tandem, with a mid sixties styled shake (and a slice of John Lennon). Some great lyrical advice follows on "No Money In My Pocket" and comparisons to Ray Davies also work here. "My style seems borrowed" he crows on "Mandy Get Your Mello On," but borrowed or not its one of the best tracks here. Highly Recommended.


Amazon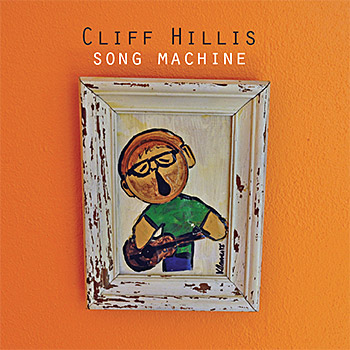 Cliff Hillis "Song Machine"
He's like the Energizer bunny of indie pop, going and going. Just when you think Cliff Hillis has reached a peak – he pulls this amazing EP out and impresses you all over again. Cliff has been very busy touring , and he's released this fan-funded EP. And thank the Lord for that; this is a clear contender for the best EP of 2014. Like his last full length, he's got a variety of styles here.
The pensive "Dashboard" leads to a soaring vocal in the chorus about listening to his favorite tunes on the road. George Harrison styled slide guitar starts off "Turn On A Dime," a super catchy ear-worm that proves Hillis continues to write memorable hits. "Just One More" has a bit more laid back feel, about asserting yourself – complete with gentle horn flourishes. Next, "Hang On To The Moment" is another gem that reaches deep; this a perfect slow rock ballad to dance to. There is not a weak moment throughout the concise seven tracks here. Some of the songwriting reminds me of Adam Schlesinger (Fountains of Wayne) where comfort can be found in the warmth of these melodies. The song "Could You Be The Enemy" even claims in the lyric "Satisfaction Guaranteed" and I would apply that to this EP. A rare treat that should not be missed.