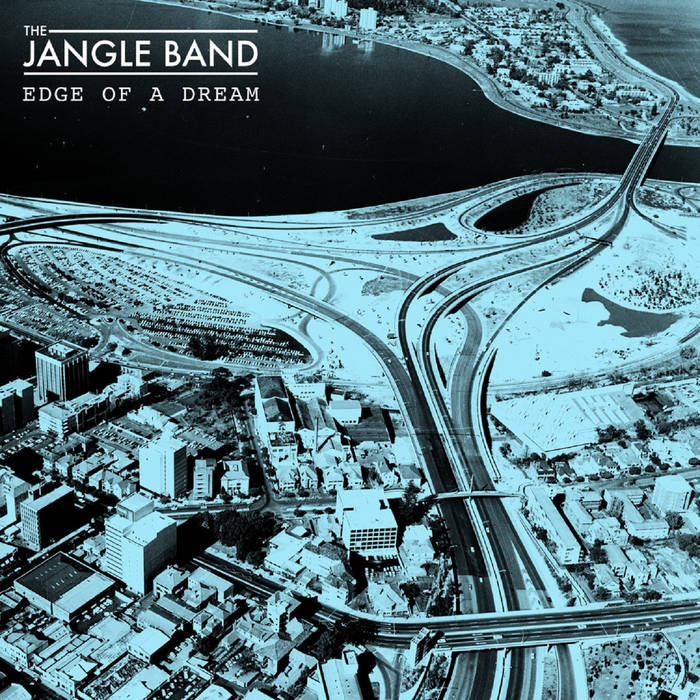 The Jangle Band "Edge of A Dream"
In the triumvirate of power pop influences (Beatles, Byrds, Beach Boys) not enough love goes out to the pioneers of jangle-pop The Byrds; and its creators Roger McGuinn and Gene Clark. The musical style is so distinct, that few can master its 12 string Rickenbacker magic effectively (i.e. Jeremy Morris.) This is where The Jangle Band excels as they deliver shimmering melodies and raga-infused jams. The band starts with the songs of Jeff Baker and Ian Freeman, both veterans of Perth Australia's pop movement. They are joined by power pop favorite Joe Algeri  (Jack & The Beanstalk, The Britannicas, The JAC) and his mates Mark 'Sid' Eaton and Dave Wallace.
Opening with "282" its more of Beatle-y beginning with a nice trumpet solo after the chorus. "Love You Too" has those familiar jangling chords and layered harmonies that can take you back to 1968. Algeri gets into the act with "Kill The Lovers" adding a great hook in a song about renewing a relationships spark. The Barker/Freeman songs have a tinge of sadness, especially "Perth" where the singer is frustrated that he'll "never leave this town," and feeling "out of time." Another gem "Another Light" reassures the girl that he'll remain faithful. Overall this entertaining set will appeal to jangle pop fans, others may want to pick and choose a few select tracks,  but without a doubt The Jangle Band lives up to its name.


Martin Gordon "Gilbert Gordon & Sullivan"
Martin Gordon (Sparks) is likely the only person who could take the 138 year old musical opera H.M.S. Pinafore by Arthur Sullivan and W. S. Gilbert and turn it into a rock n' roll album, other than maybe Todd Rundgren. Gilbert imbued his play with mirth and silliness, and Gordon gamely runs with it. As the video for "Modern Major-General" shows, there is a Monty Pythonesque approach to the singing and Martin's Rickenbacker is also up to the challenge.
With selections ranging from the well-known (''When I Was a Lad", "Lord High Executioner") to the more obscure songs ("Go Away Madam"), Gordon delivers this labor of love in a way that makes it extremely fun to listen to, and dare I say it sing along to. So grab your libretto, sailors hat and a good set of headphones! It's also available in a glossy limited edition package. The full album will be available May 2nd.


Didn't get those lyrics? Here's a lyrical video.