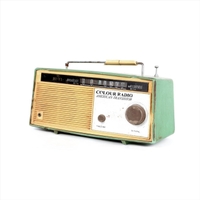 The Nines "Colour Radio (American Transistor)"
Steve Eggers (aka The Nines) is back in pop music mode. Joining Steve again is Bill Majoros (the Foreign Films) on guitar as they deliver a diverse selection of styles. Eggers style has always been influenced by ELO, and on "Crazy Little Girl" he almost copies the intro to "Do Ya" but goes in a heavier direction with a rougher vocal. It still has the catchy multi-tracked chorus, but sounds closer to The Move with Majoros fuzzy flourishes. Much more familiar is "Maybe If You Stayed"  with its sweet melody line and Steve sounding wistful as ever, even as he climbs into falsetto. And the lovely "For a Lifetime" is a piano lullaby reminiscent of Gershwin.
It's everything Nines fans love, but Steve goes in different directions to keep things fresh. "On and On She Gets By" is a fun musical number about a girl, done with a barroom styled piano, harmonica, and a strutting synth line following a Randy Newmanesque lyric. Steve also goes funky with a Stevie Wonder-styled Moog Clavier and goes all in on "You Can Get More Than This" and  "Don't Be Losing Your Game." Not everything sticks, and there are amounts of so-so filler to keep the "radio" theme (like we never heard The Who's "Sell Out"?) However there is more than enough to make this album highly recommended. Includes the holiday single "Believe In Christmas."


Dave Keegan "Dave Keegan"
Englishman Dave Keegan is a former Elvis impersonator, almost became a Cambridge University teacher, and somehow dived into making this album at his home studio. But this doesn't sound like a casual DIY setup. "Hello" is fuzz and reverb-drenched gem with Keegan's crisp vocals, very much in the mould of The Posies.
Like many creative souls, he is simply compelled to make music, and sing about it on the very auto-biographical "Under Your Skin," about "just a fan" knowing The Beatles "by heart / every note / every bar / every glorious part of their golden reign." Next comes "Fizzbomb" leading with an infectious guitar riff, and the folksy English "Harbour City Blues." Keegan's vocal style is like Glenn Tilbrook (Squeeze) or Nick Lowe in spots. Another highlight is the bouncy "Get Me A Girl" with its optimistic breezy melody. The acoustic compositions dominate on the album's second half, with the impressive "Out of Tune" as a great mood piece, but some of the slower tunes feel more like sketches here. Overall a fine debut from a talent I hope we hear more from in the future.