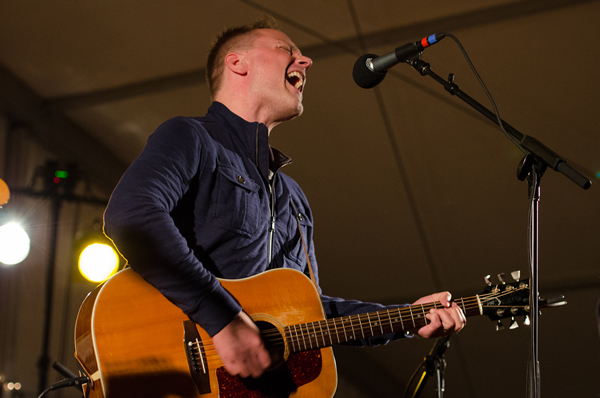 Jonathan Rundman has been writing songs and performing across the country since he was 18 years old. He emerged on the national music scene as a Chicago-based touring artist, generating rave reviews in Billboard, The New York Times, Performing Songwriter, Paste, and countless regional publications. Now living in Minneapolis, his newest 2015 release is titled LOOK UP. It draws from Rundman's diverse musical influences including Americana, Nordic folk music, and '80s New Wave pop. Listen to it on Bandcamp. Visit his site http://www.jonathanrundman.com
After an exploration of Finnish music, what made you come back to pop ten years later with "Look Up?"
Jon: The Finnish folk band retired, which left me more freedom than I had had in years. We had been on the road like crazy, and I had been doing all the booking, contracts, promotion, online communication, merch, and organizing for the band, so I had not had much time to be creative. Also, the Finnish band was primarily instrumental, and played traditional music composed long ago in the Nordic countries, so I had not been writing much music or lyrics during those years. With my newfound freedom, I realized I had a lot of passion and ideas as a pop songwriter that had not been addressed. I had never been more excited or motivated to make a solo album! Songs like "Home Unknown," "The Ballad of Nikolaus Rungius," and "Painter" were directly inspired by my years playing Finnish folk music.
Who would you say are your biggest influences in music?
Jon: As reach my mid-40s now, I can look back across my life and identify those influences with new clarity. As a little kid, Paul Simon was huge for me. My family listened to the Simon & Garfunkel records on 8-track tape in the car, and the Paul Simon solo hits were all over the radio. I loved songs like "Loves Me Like a Rock" and "Slip Sliding Away." His songs are very diverse, but all with beautiful melodies, harmonies, and lyrics. When I was making the LOOK UP album, I became aware of the influence of the New Wave bands…especially synth-driven stuff like The Cars, Eurythmics, Duran Duran, Todd Rundgren's Utopia, and hits like "Don't You Want Me" by Human League. I love those highly arranged keyboard parts. My years playing Finnish music really drove me back to the keyboard, which was my first instrument.
As a teenager I discovered the late-80s pre-Americana movement with bands like The Silos, The Rainmakers, Lone Justice, the Hooters, Georgia Satellites, and the "Lonesome Jubilee"-era Mellencamp stuff. I loved how a rocking band could employ acoustic folk instrumentation, and that was a major influence, too.
Tell me about your songwriting process — is it melody first, a lyric or does it all come together at once?
Jon: Usually I begin with a song title or lyrical concept. I have a songwriting book with lists of song titles that I'll write down during stream-of-consiousness writing exercises. On this new album, the songs "Northbound Traffic," "Prioritize Us," "No More Old Times," "Helicopters of Love," and "Second Shelf Down" were all written starting with the title.
Occasionally I'll start with a melody or a riff…."Home Unknown" began with the melody, which I wrote while playing violin. But that's not my usual method!
What is your favorite song on "Look Up"?
Jon: I usually don't have favorites, because I feel like my songs are like my children, and picking favorites is kind of impossible. However, on this new album I think I might have a favorite…."Prioritize Us." It was the last song written for the record… in fact I wrote it after the pre-production process had already begun, so it was just barely composed in time to be included. It's the only romantic love song on the album, and I feel very emotionally invested in the lyrics which were written to my wife. Plus, the music and arrangement are unlike any song I've recorded before. It's certainly the most Duran Duran of anything I've ever done, and I'm amazed and thrilled at the performances of the studio musicians who played on the recording.

Any good experiences on the road you'd like to talk about?
Jon: All my experiences on the road are good! I adore life on tour. I love hotels and I love restaurants. I love to stop at a random town at 2PM and go to a movie alone. I love to pull over at a lakeside or ocean beach and go for a swim before arriving at the venue. I'm quite content to live out of a suitcase, and I'm very low maintenance.
This is my 25th anniversary as a musician and I've performed in every state in the USA except for Hawaii, the Carolinas, and Maine. I love traveling, seeing the sights, and learning about geography and history. My ideal situation is 60 degrees and sunny, zooming down an empty freeway, my iPod on shuffle plugged into the car stereo, and a giant iced tea to drink as I drive. All that, and to play concerts in the evening, is about as perfect as I could imagine.

Did you actually see the body of Nikolaus Rungius?
Jon: Yes! My wife and I went to Finland for the first time in 2001, and we drove with my cousin from Helsinki all the way up to Keminmaa, near the Arctic Circle, to see Rungius. He's a tourist attraction. No photographs are allowed when you visit, but there are old pictures from years ago that are searchable online, and also some very detailed scientific photographs from when his corpse was examined in a laboratory. Google him! It's eerie, and yet very peaceful. It's one of the many experiences I've had in my adult life that has deeply connected me to my Finnish heritage. I'm a direct descendent of Rungius' brother…which makes him my 14th-great-uncle or something like that. The surname Rungius evolved into Rundman over the centuries.
You've done folk to pop to rock — any preference?
Jon: My preferences are based on the situation. For performing live, I prefer the folk music approach: I love acoustic instruments, and I hate amps and heavy equipment and loud volume and hauling gear around. One of the joys of playing traditional Nordic folk music was how natural and pure it was… we'd show up with our acoustic instruments, or sit down at a grand piano, and perform with very little technology…or sometimes totally unplugged. It was very intimate, and the audience was drawn to the band. I like when audiences are seated and quiet…. so that's why I'm not a fan of playing club gigs.
For studio recording, however, I love the rock band approach. I love great drumming, and it's extremely fun to layer electric guitar parts, keyboards, and vocals. The LOOK UP album is the most electric and high-production album I've ever made, and it was a blast to create in the studio. It's kind of funny…I want to make big, loud, slick rock albums in the studio, and then hit the road solo and play the songs on piano and acoustic guitar.
I imagine if I was a famous and wealthy musician, and I could hire somebody else to haul the gear around, set up the equipment, and run monitors, then I'd enjoy performing in the loud rock band environment.
Are you going to play on any of your contributing musicians projects like Brent Bourgeois or P. Hux?
Jon: I would certainly love to! Both those guys just made excellent new albums themselves this past year, so who knows when they'll be back in the studio… but if I got the call, I'd certainly love to contribute. They're two of my favorite artists, and it was a thrill to have them on the LOOK UP album.
Lately I have been playing on other artists' albums, mostly through the wonders of sharing audio files online. In 2014 I was invited to play accordion, Wurlitzer electric piano, and Hammond organ on albums for songwriters Robbie Schaefer and Trish Bruxvoort-Colligan, both which were produced by the brilliant Jake Armerding. Also, here in Minnesota I've done studio sessions at an incredible all-analog studio called The Barn, run by producer and songwriter Michael Morris. Michael produced beautiful records for bands The Holy Broke and Matt Arthur & The Bratlanders, and I was very pleased to play keyboards for those sessions.
Cool, that was a great interview. Thanks so much Jonathan.