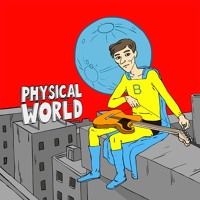 Bart Davenport "Physical World"
Bart Davenport is one of those musicians that can take past influences and funnel it into brilliant original music. The opening track "Wearing the Changes" is part McCartney and part '60s Motown. And he doesn't stick in one era of the musical timeline, "F*ck Fame" is like the lost 80's classic Spandau Ballet never released – this is damn catchy and will stay on my playlist a while.
Davenport's vocal is of the silky smooth crooner variety, "Dust in The Circuits" is full of cool and soul in the way Morrisey used to be (before he became a bitter old fart). One of the best songs here is "Pamela," an earworm with a boss nova beat, and "Every Little Step" is wonderful mix of Stevie Wonder and Glenn Tilbrook. A few tunes get a bit sleepy ("Girl Gotta Way") but the great songs outnumber the so-so ones. Highly Recommended!


Amazon

Marshall Holland "And The Etceteras"
Hailing from Salinas, California, musician Marshall Holland has an easy going casual style with a vintage pop touch – think The Zombies, Crowded House or The Cyrkle.  "Take Me" is a note perfect single with tight pop arrangement, and "At 65" compares well with Phil Angotti. One of the albums best is "Oh Please," it has a touch of Gene Clark with a sweet Beatles-like chorus. After a few listens it just sticks with you. Holland's slower moody tunes like "Goodbye September Days" are closer in style to Jeremy Messersmith.
I appreciated the tune "Radio Style," which comments on sad state of contemporary radio; "blame the on the digital DJs" if you don't hear what you want. I couldn't find a real weak track, although the albums second half has a few instrumental fillers. Overall this is a textbook example of quality pop music. Highly Recommended.


Bandcamp | Amazon