The Posies "Solid States"
The Posies prove they are survivors, as both Jon Auer and Ken Stringfellow have dealt with major blows over the last few years – the death of drummer Darius Minwalla last year, and former bassist Joe Skyward passing away this past March from cancer. The duo has soldiered on, and have "modernized" their sound a bit in the process.
The opener "We R Power" is a defiant anthem that builds the guitar riffs with each chorus, like The Posies of old it fits in nicely with the bands catalog. The follow ups; the understated "Unlikely Places" and "Scattered" retains that signature melodic power, with the duos harmonies in full bloom coming from a genuine longing. "Titanic" and "Rollercoaster Zen" are where the band starts to veer into a sound thats more like Animal Collective or Grizzly Bear. It still works due to the bands knack for catchy rhythmic skills, and Stringfellow's vocals are just hypnotic. But it just doesn't work for me with on the synth pop of "M Doll" and "The Definition."  Still there are great songs to be mined here; "Squirrel vs Snake" is one of them, with its tuneful metaphors. The bands trauma leaves scars, and in the healing process allowed them to takes risks, so fans should be open to exploring the new sound. Highly Recommended.



Amazon | Lojinx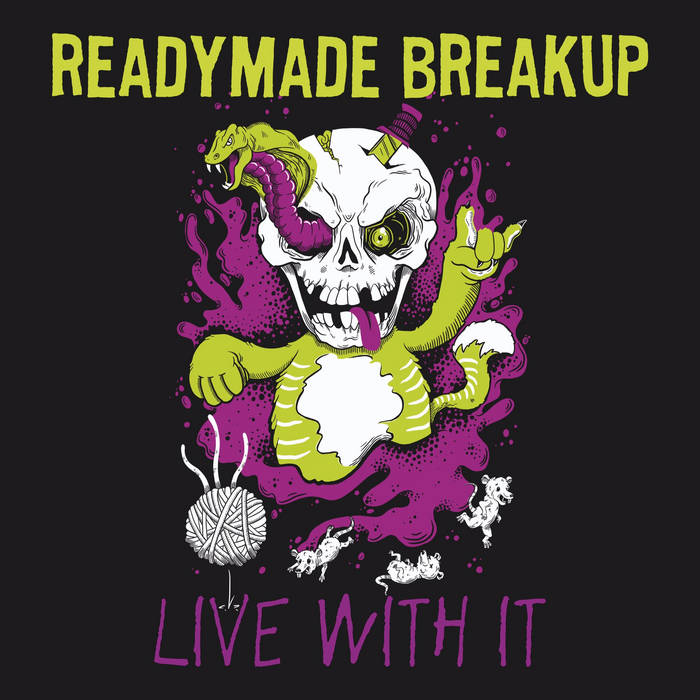 Readymade Breakup "Live With It" EP
Asbury Park's best kept secret has been in semi-retired mode, living adult lives until recently, the band decided to come back with a live recording. Opening with the best song Iggy Pop or Lou Reed never wrote, "Kiss My Ring" is a great single with swagger to spare. "Adolescent Fantasy" and "Low Life Creep" are fuzz guitar punk gems in the spirit of The Jam and The Ramones.
After these high energy singles, it seems the band comes back to earth on "Everything is Crumbling" as the lead singer Paul Rosevear states "My mind is fried…" Thankfully its back to the snarling on "Whiskey & Jellybeans," and the whole minute and a half song  is about losing your teeth, "They were white/then yellow/then loose… then fell out." It would be funny if it didn't sound so angry. What is also unique about this release is you get it bundled with a neat-o tee shirt!