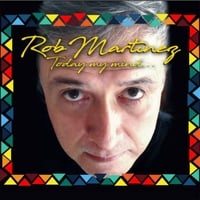 Rob Martinez "Today My Mind"
If you like your power pop with classic '60s and '70s influence, Martinez hits his stride here. "Let Me Tell You Why" and "When We Meet" has that bouncy rhythm and sing-along hooks that easily could've made the AM radio charts back in the day. We get a little psyche-pop "Sooner or Later" with sitar and finger cymbals, but it tries a bit too hard. Much better is the grand "Time" which is a post-Beatlesque look back with a perfect point of view and Martinez vocal soars.
The Earle Mankey production is solid and Martinez is joined by Adam Marsland doing all the instrumentation here, they sound like they're having fun on the rocker "Get It Right" and the title track. Not really any filler, unless you count the Prince-inspired finale "Will U B My Lover" with the entire roster of Karma Frog Records joining him. Overall, a really fine album that deserves to be heard.


Gordy Garris "Never Give Up"
Young pop-rocker Gordy Garris is a strong vocalist and his opener "Let Me In" has a big anthemic chorus that will stick in your head.  The songs across the album are all about relationships, and their ups and downs, as "Out Of My Mind" he wonders why he's even in one.
Standouts include "Good Times," with its hook-filled harmonies, the multi-tracked "Move Me," and the shimmering-guitar of  "Wanted Man," with its violin accents. Many of the romantic ballads are decent, if unremarkable but there is enough here to recommend. Gordy never gave up, so you should definitely give him a listen.


Coke Belda "3(Gs): A Tribute To The Bee Gees"
Coke Belda creates this fantastic tribute to the Brothers Gibb on his third album. Belda adds his own fine musicianship to these Bee Gees classics, so in many ways, it sounds fresh and new. He avoids most of the disco era, remember early in the Brothers career they competed with The Beatles, as evidenced by "Claustrophobia."
What he's done is pick buried treasures from the Gibb catalog such as "Run to Me," (from To Whom It May Concern) "I've Gotta Get a Message to You" (from Idea) and B-sides like "Sir Geoffrey Saved the World." These underappreciated gems are polished by Coke with vocal assistance from Gretchen Wheel's Lindsay Murray, and mastered by former Merrymaker Anders Hellgren. Highly Recommended.