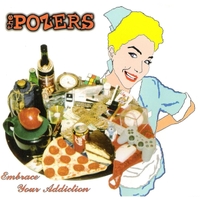 Reissues: The Pozers "Embrace Your Addiction"
With their 5th CD release, The trio known as The Pozers (Jim Richey, Kenny Swann, Jeff Hamm) serve up some brand new "addictions" for your listening pleasure.The albums overall theme is on memories (specifically 1987) and musical influences are straightforward; starting with "The Time and Place" it slowly morphs from harpsichord into a rich combination of guitars and Beatlesque harmonies. Then "Cindy See" is a very Fountains of Wayne styled gem to honor an obsession with supermodel Cindy Crawford.
Richey's poignant fuzz guitar "Lucky Face" emphasizes "We get no guarantees (I guarantee that)" and the Beatles style is especially strong on "When Intellects Collide," and then it changes slightly for the breezy gem "Sunshine (Smiling Face)" with some horns added to the raw vocals. Many songs densely packed, with sharp wit between each drum fill and chugging riff. The band's arena rock indulgences come out toward the end, but this is still one of best Pozer's albums out there.


Freebies!
Imp of Perverse is a Texas band with a mellow psyche-pop style full of sleepy low vocals. Check out "Misunderstanding." A FREE download too.

Zeus Springsteen
is just hoping "The Boss" sues them, but this solid alt. rock band has some serious arena rock chops. The Vermont-area trio is made up of David Evan (lead vocals, drums), Chris Farnsworth (lead guitars) and Josh Shedaker (bass) and they have a little glam influence too, just check out "Your Funeral" and "Rental" Oh yeah and it's a FREE download.