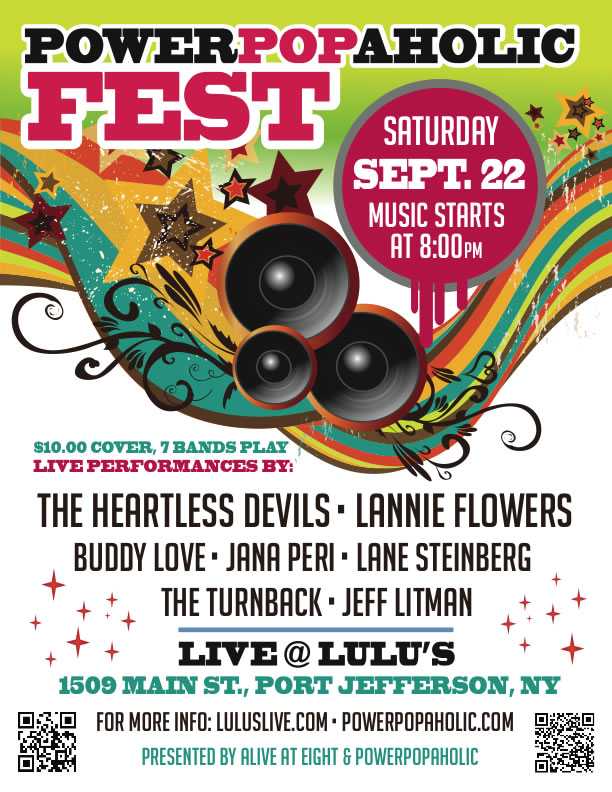 https://youtu.be/P8trXqx_DyY
The Heartless Devils
Aggressive & catchy Power Pop, Hard Rock, and Punk mix and the vibe is a good one. Raw, fun, hook filled Rock N Roll – think the Ramones meet Cheap Trick with some Social D and Plimsouls thrown into the mix for good measure.
 http://www.reverbnation.com/theheartlessdevils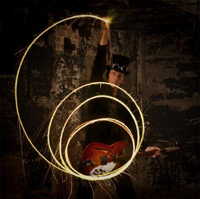 Lannie Flowers
After capturing rave reviews from music critics from all over the world, Lannie Flowers became an immediate spotlight in the power pop world. His album has been named "Album Of The Year" by Power Pop Station Magazine. "Circles" has been described as, "a brilliant power pop record by one of the most talented practitioners of the genre." | lannieflowers.com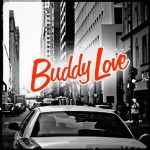 Buddy Love
Buddy Love is a power pop sensation renowned for climbing the charts with a hit single, "Sheila" in 1980.  Buddy Love followed up their first musical success with a smash hit-filled CD entitled, "Now and Then."  This collection of power pop received rave reviews and airplay around the globe. Buddy Love is now promoting their latest self-titled album. The hit single, "Crying Town" (co-written and co-produced by Tommy Byrnes) is receiving airplay in NYC and Buddy Love has been performing sold out shows in New York City venues. | buddylove.us
Jana Peri
Jana Peri is a NYC singer/songwriter/guitarist with her own punk-influenced, power pop/rock band. She was a winner of ROCKRGRL's Discoveries 2004 contest with the song "Dating Sucks," from her self-titled EP.  Other critically acclaimed releases include Catching Flies With Vinegar, produced by Daniel Rey (Ramones, Ronnie Spector).  Jana has had three successful UK tours and joined legendary Liverpool band The Quarrymen onstage there in 2010. She also performs with NYC tribute band Loser's Lounge. | www.janaperi.com
The Turnback
New York's The Turnback blends elements of 60's and '70's power pop and rock together with a modern sound to create songs that are at once familiar yet distinctly original and timeless; a sound that fits comfortably into any era – yet never becomes dated, tired or trendy. The Turnback's complex, yet warm vocal harmonies add an aspect to their songs that is sorely missing from much of today's music. Their 2011 debut CD 'Drawn In Chalk", which also served as the soundtrack for the award-winning indie film "Drawing With Chalk", made multiple year end "best of" lists (Powerpopaholic, David Bash's IPO, Pop Geek Heaven, Pop Fair and Sweden's Ice Cream Man Power Pop blog amongst others). | www.theturnback.com
Jeff Litman
The gritty Americana of Tom Petty, the harmonic savvy of Elvis Costello, and the undiluted melodicism of Paul Westerberg.
Lane Steinberg
Lane Steinberg's career started in 1982 with the seminal power-pop group, The Wind. Since then he has been involved in a variety of projects, both as a solo artist and a collaborator (8X8, Cracked Latin, Tan Sleeve, R. Stevie Moore). Recently Lane has come full circle and is currently recording a reunion album with The Wind, scheduled for a 2013 release. He can be found at www.lanesteinberg.com.
Power Popaholic Fest 2012
On September 22, 2012 we had our first annual Power Popaholic Fest. By all accounts it was a smashing success, and we are totally ready to do it all again next year. Below are photos and movies of the performances. All photos and video courtesy of Tom Parisi.
https://youtu.be/g9TvdYJuLQQ
Intro of Lannie Flowers, song "Give Me A Chance"
https://youtu.be/RSoOBubZmTM
Lannie Flowers "Come On Girl"
https://youtu.be/_6cmwnknfMA
Lannie Flowers "Another Weekend"
https://youtu.be/GRxjkk_UZtg
Lannie Flowers "Looking For You", "Turn Up The Radio"
https://youtu.be/PzBneC2eU0k
Jana Peri "I Wanna Rock"
https://youtu.be/FAFF5mxtiI8
Lannie Flowers "All Dressed Up"
https://youtu.be/JvoAlRq1XA4