Photos shot at Son of Power Popaholic Fest on 9/19/15 at Bar Matchless, Brooklyn.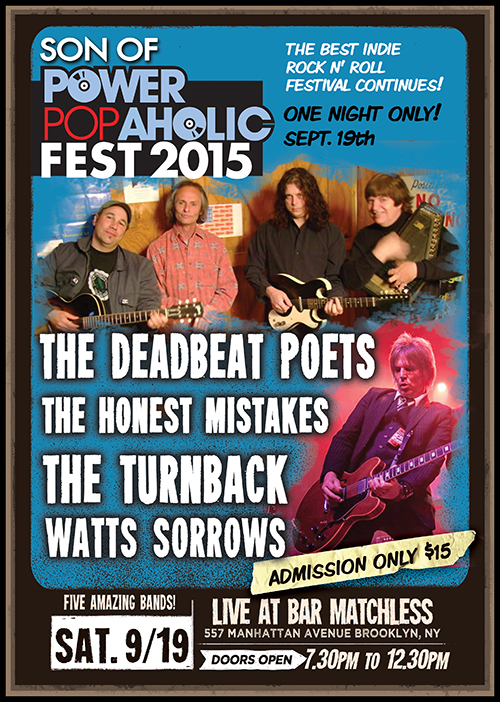 SATURDAY SEPT. 19, 2015 AT BAR MATCHLESS, BROOKLYN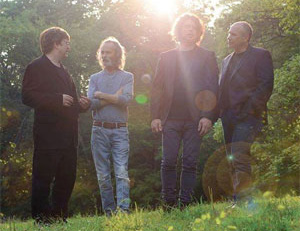 The Deadbeat Poets
The Deadbeat Poets are four veterans of the Youngstown/Cleveland Ohio. Main songwriters Frank Secich (Blue Ash, Stiv Bators) and Terry Hartman (Backdoor Men) are complimented by the outstanding musicianship of Pete Drivere and John Koury (both of Infidels fame), and accomplished songwriters in their own right. Their new album will be on
Pop Detective Records.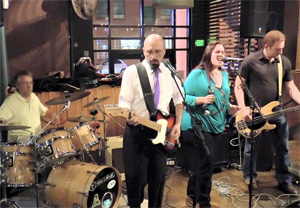 The Honest Mistakes
Solid guitar based pop music from Balitmore, MD lead by the great vocals of Joylene Dalia and the guitar of Chris Ehrich. Rounded off by John Breitmeyer on Drums and Kevin Riordan at Bass, their latest album is called "Get It Right available for download on Bandcamp.
http://thehonestmistakes.bandcamp.com/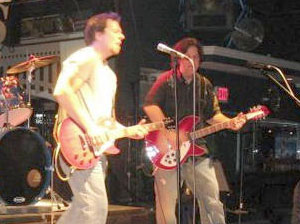 The Turnback
Returning to Power Popagholic Fest after a 2 year pause, the trio of Todd Giglio, Kenny Sherman and Barry Nagel have been hard at work on a new album called "Are We There Yet?" The band previously was toast of the indie film circuit with Giglio's fictional biography "Drawing With Chalk." It won oodles of awards and we're glad he's back at The Fest!
Check out the film here!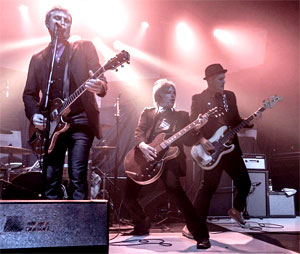 Watts
Here's a band with "crunching riffs that carry a cracking melody and considerable swagger." Boston's Watts is named after Rolling Stones drummer Charlie Watts, and have supported The Smithereens, Ace Frehley, Joe Perry and Cheap Trick. Their new album "Flash of White Light" is available on Rum Bar Records.
http://kingyumrecords.bandcamp.com/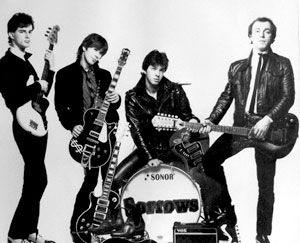 Sorrows
The Sorrows sounds span early rock & roll, rockabilly, through the 60's Pop and R&B, right into the hard-edged sound of New York City's New Wave and Punk Rock, Sorrows are all about 'the song' – strong melodies, irresistible hooks, fueled by their powerful backbeat and hard driving guitars. Lead by the legendary guitarist Arthur Alexander (The Poppees) they play irresistible power pop.
What they are saying about the Power Popaholic Fest:
"You get these bands that just love, love playing music, and getting them all under one roof is such a great experience to see. Seeing four or five pure pop bands together, that's an experience that you're almost never going to have." – fan at Power Popaholic Fest