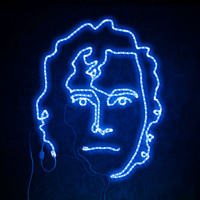 Bleu has produced top-selling pop acts like Selena Gomez, Jonas Brothers, and Demi Lovato. And like Jay-Z, he's taken all the techniques he's done for them and added it into his own album. To Hell With You is basically a modern pop "statement" successfully funded by Pledgemusic. Those of us who heard the sunny pop "Bleusical" commercial advertising this album may be somewhat disappointed that Bleu appears to have ditched his traditional power pop roots. But he mentions at the outset that he's exploring his boundaries musically, so get ready for a bumpy ride.
Where Four
was a love letter to his childhood, To Hell With You is a more personal statement of musicial nihilism. It starts with a positively Danny Elfman-like "Overture," and then the title track's electronic synths and beats start. Similar to a Depeche Mode/ELO mix with a dance club chorus, it fades into the melody of "All Downhill from Here," a nightmare sung as a sweet lullaby – it's the best track here that gets his point across. Next is an honestly bitter rant, "In My Own Little World," it is the most cynical (and catchy) song I've ever heard from Bleu, where "in real life people suck, and there is no such thing as love." This theme is continued on "Merry-Go-Round" which is similar to Katy Perry's "Firework." There are several bright spots musically, "It's Not Over" is a strong bluesy tune and the desperate "Grasping At Straws" both boasting amazing vocals.
"The Bottom Of My Heart" adds Alexz Johnson's vocal for Bleu to duel with, and then "Endwell" gives us a rap with Justin Tranter (ugh) and Auto-Tuned crap on "Odd Future" (double ugh). At least we end with a great ballad, "Won't Make It Out Alive," and it almost makes up for the earlier indulgences. Almost. The "hidden" track is very good too and there is definitely enough here to please the hard-core Bleu fan, but others may not want to wade through the other genre experiments. It will release traditionally in May, but for now its only available through PledgeMusic as a download.