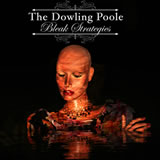 The Dowling Poole "Bleak Strategies"
We told you about the duo of Willie Dowling and Jon Poole teaming up for the debut of the Dowling Poole. Honestly the track record of albums from PledgeMusic or Kickstarter has been spotty at best, and I've been burned a few times by artists promising the best thing ever, only to get "something else." Thankfully Dowling Poole happily exceeds expectations here. The pastoral shimmering opening "The Sun Is Mine" could've fallen off XTC's Skylarking – it's that good.
Next the rhythmic "Kiss On The Ocean" is a quintessential English-styled love song, part Maddness and part Martin Newell with a sing along chorus supported by "ooh la la" vocal backdrop. "Hey Stranger" is a little darker but no less compelling and it wanders into Klaatu-land with an amazing harpsichord and trumpet ending. Nearly every track is a polished gem and even the mellow "Paper, Scissors, Stone" is has a delightful jazzy pastiche that echoes Colin Moulding. The rich instrumentation and details invites many repeat listens, especially on the albums second half where it morphs into progressive rock with multiple melody lines, a perfect example being the psychedelic "Getting A License." The finale "Clean" is slow building juggernaut along the lines of "Hey Jude." This is an essential "do-not-miss" album, that makes my top ten list for 2014. I'm sure it'll move to major distribution soon, but get it at PledgeMusic now.



The Both "The Both"
Like the musical equivalent of a Reese's Peanut Butter Cup, Aimee Mann and Ted Leo join forces to create The Both. It's fairly rare for indie power pop auteurs to get mainstream attention (Reviewed in Spin, Rolling Stone and Pitchfork), but I'll take it. Both artists leave their comfort zone a slightly and form an effective collaboration. Leo's punk tendencies and Mann's introspective melancholy are relatively restrained here, and that's a good thing. It allows the duo to come up with some excellent songs "Milwaukee" being the highlight. Leo's guitar is reminiscent of Thin Lizzy and Mann's catchy chorus makes for good listening. This energy is missing from other songs like "The Gambler" and "No Sir" where the melody merely plods along.
Some nice touches are on the fuzz-bass led "Volunteers of America" with the comfortable harmonies of the duo and solid guitar riffs. In fact this is best vocals I've heard from Leo in a while. Both artists get to express ideas, Mann's sparse "Hummingbird" and Leo's guitar heavy "The Prisoner" both make personal statements. The Thin Lizzy cover of "Honesty Is No Excuse" is another highlight, along with the Beatlesque piano melody of "The Inevitable Shove" about "…blaming the ones you love." A solid release that should please fans of both artists.


Amazon