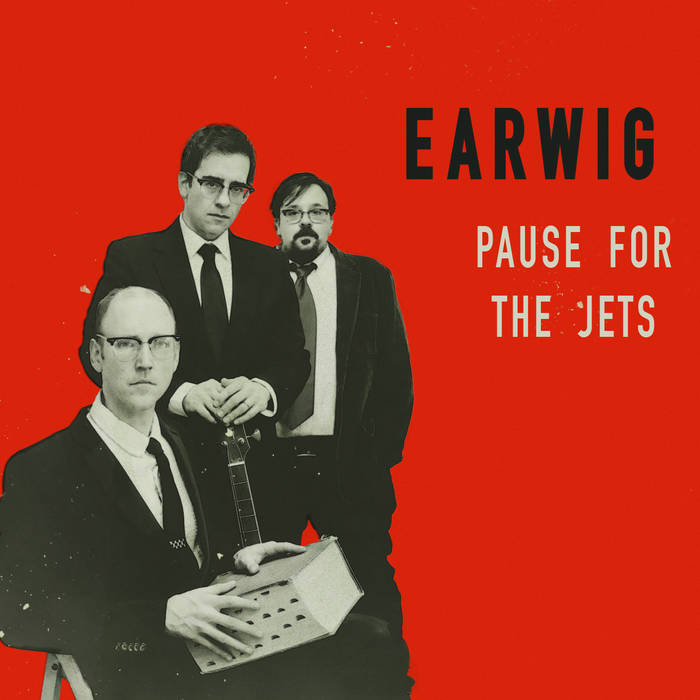 Earwig "Pause For The Jets"
Earwig consists of guitarist and vocalist Lizard McGee, vocalist James McGee-Moore, bassist Costa Hondroulis, and drummer Nick Nocera. The Columbus, Ohio quartet sets the table with rocking, fuzz heavy "Wisdom Teeth;" that's part Jane's Addiction and part Bob Mould. The big riffs introduce "Lovers Chords," a anthemic punk pop gem, all wrapped with layers of synth. Earwig then gets darker with its distorted chords, a great example "Bring Yrself 2 Me" is almost an indie pop version of Alice In Chains, and revisits this wicked guitar work on the instrumental "High Wasps."
Another great pop gem is the duet with Lydia Loveless "Wasted On You," a relationship post-mortem about star-crossed lovers. "Shine" is a downright mainstream pop ballad with a sweeping chorus and McGee provides a memorable performance that almost demands you take out your cigarette lighter and sway. Other tracks don't have the same impact, but the variety of style, and quality musicianship here is worth the price of admission.


Fernando Perdomo "Voyeurs"
Review by Mike Olinger: Miami-based Fernando Perdomo elicits a wistful kind of nostalgia with his bittersweet, tremolo drenched folk rock. One part Elvis Costello and two parts ELO, his sound is both melodically familiar and musically challenging. His newest self-produced opus, Voyeurs, is 17 song odyssey that was created through a series of live Facebook streams which allowed fans to watch the music come to life in real time. Their instant feedback influenced every artistic decision that was made, resulting in a collaboration of sorts between the mastermind and his musical voyeurs.
"Home" is one of the many primo cuts where Perdomo's virtuosic grasp of tasteful arrangements equals his melancholy songwriting. His artful approach to recording rivals' contemporaries like Richard Swift who mine a similar pop radio (circa. 1970's) vein, but in the final stretch of the LP Perdomo forgoes this classic rock leaning for moody, jazz-inspired tangents that feel suited for fall weather and wouldn't feel at all out of place alongside the bouncy instrumentals from the Rushmore soundtrack.


About Mike Olinger: I am mad about music. Especially music with vision, uniqueness and soul. My record collection consists of over 1,000 minted vinyl which no one can touch except me and my cat.