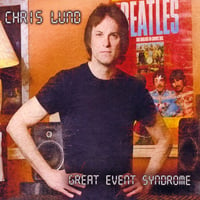 Chris Lund "Great Event Syndrome"
Chris Lund is best known for his work with Lund Bros, who have an impressive discography of excellent guitar-oriented rock, so it's no surprise that Great Event Syndrome boasts all the right influences. Although a DIY record was done in his home studio, it sounds amazing due to Lund's attention to detail."Tell Me" is a very Cheap Trick-styled opener with its thick guitar hooks and overlapping solos. "The Path" is loaded with musical ideas and almost prog styled, anchored by the acoustic strum and "Glimpse" is a solid Badfinger styled rocker with a jangling chorus and sizzling solo. But the golden nugget here is "700 Miles," a perfect amalgam of Beatles/Big Star sound, and one of the best songs of the year IMHO.
Chris packs a lot into each song, so repeat listens are required to fully appreciate the juxtaposition of chords, solos, and harmonies. The next several tracks all have great moments, especially "Remember The Daze" with its reminiscing chorus and terrific solo break. Other standouts include "What's Her Name," the Led Zeppelin-like folk song "The Juice" and dense pop closer "Fare Well." Overall, a great power pop album that is highly recommended.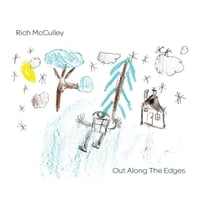 Rich McCulley "Out Along The Edges"
Roots rocker Rich McCulley is still finding new inspiration as he writes of both love and loss, good and not so good, hard and better times. With his distinctive gravelly voice, he opens with the emotional "Hey Trouble" about the "broken ties that bind" and the fine guitar melody of "Eventually" really grows on you.
The strong "Burn A Hole In The Sky" recalls Tom Petty with its defiant attitude. McCulley leaves his Americana style and tries blues-pop on "Pilot," jangle pop on "Sinking Sun" and the brilliant look back at NYC "Midtown" and wondering where all the record stores are. Another satisfying album that deserves to be heard. 


Re-issue Spotlight:


The Spinto Band "Nice and Nicely Done"
Wilmington, Delaware's The Spinto Band is possibly planning a comeback, but in the meanwhile it has re-issued 2006's Nice and Nicely Done, chock full of B-sides and rare tracks. Their geeky pop sound has been influenced by The Talking Heads, and fans of Field Music, They Might Be Giants and Neural Milk Hotel will enjoy the quirky energy.
Vocalist Nick Krill does have a David Byrne-like vocal he uses to great effect on the mandolin heavy "Oh Mandy." A lot of highlights, including "Crack the Whip," "Direct to Helmet" and Pavement-like "Trust Vs. Mistrust." If you missed it back then, I would revisit it now as it has aged very well. Highly Recommended.