It's another Fest in the books. Check out our review of the weekend here. Power Popaholic was also proud to give the Spirit of Harmony Foundation a check for $200 thanks to The Odd Fellows of Mineola.
Thanks to all the artists who participated. If you are an artist interested in future Fests, please contact me and let me know the times you may be available to visit Brooklyn next summer.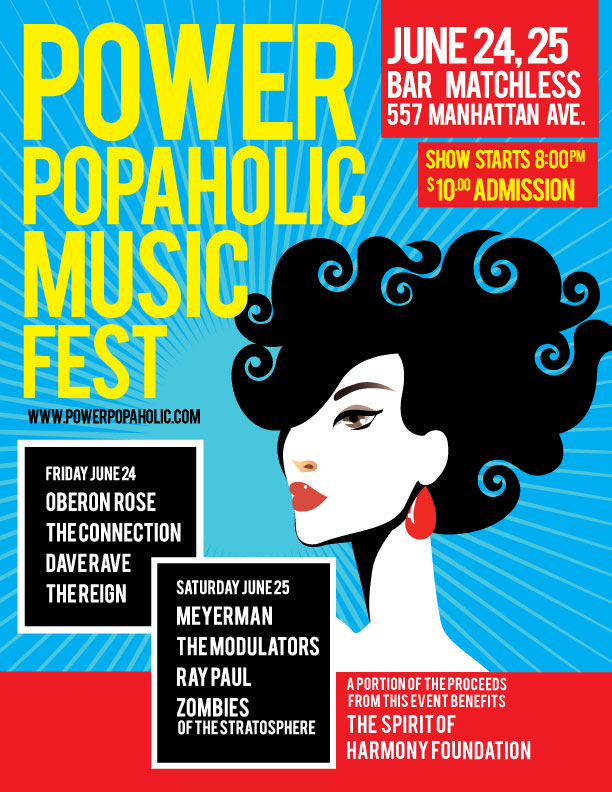 The Power Popaholic Music Festival is in its 5th year, and this time we are at
Bar Matchless
. Check out the artists to hear a sample of their music:
Friday June 24:
8:00 Oberon Rose
9:00 The Connection
10:00 Dave Rave
11:00 The Reign
Saturday June 25:
8:00 Meyerman
9:00 The Modulators
10:00 Ray Paul
11:00 Zombies of The Stratosphere
Plus a special appearance by John Siegler and Kevin Ellman from Todd Rundgren's Utopia!

We will also be raising money for The Spirt of Harmony Foundation. This is a non-profit organization that supports the moral imperative of music education and music performance for youth, founded by power pop music legend Todd Rundgren. The Spirit of Harmony Foundation advocates for instrument-based music education, beginning at the earliest age possible, offered in schools or as after-school programs.
We will have a raffle drawing for several prizes at the beginning of each show, so show up early!