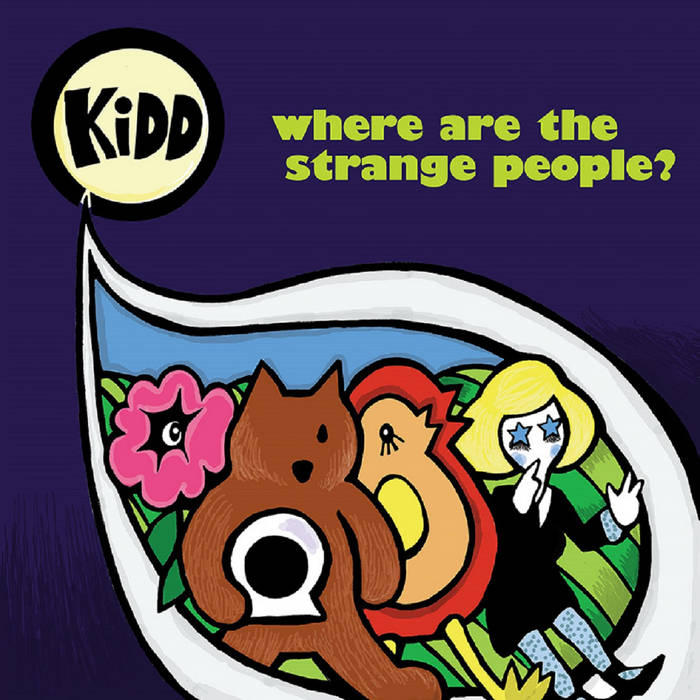 KiDD "Where Are The Strange People?"
KiDD is Glasgow musician Stuart Kidd, who's also been part of The Wellgreen and Doctor Cosmo's Tape Lab. He has emerged from his bedroom recording studio with a batch of lo-fi pop gems, including a children's music album. If you enjoyed Harry Nilsson's "The Point" or Ringo's "Octopus's Garden," you'll find KiDD a refreshing listen.
The instrumentation is sparse, but the melodies are tightly packed. The opener "Little Flower" has this sweet combo of jangling guitar and futuristic bubble popping sounds in the rhythm, as the harmonies flow along. The combination of pastoral and futuristic on "Cyan Seren" is a mellow gem that won me over right away. The album's second half features several psychedelic textural pieces like "Callisto" and "Modified Radio Birdsong." The psyche-pop of "Looking For The Way Out" is another trippy melody that sticks, but doesn't linger too long. A very pleasant distraction and overall a great headphones album.


Bandcamp | Pretty Olivia Records


Happy New Year from Ryan Allen!
We get a nice gift (aka FREE download) from Ryan Allen and his Extra Arms. "The Boy Who Bounces Back" and "New Year's Day" are two tracks that were recorded but left off of 2016's Basement Punk. Great stuff!
The Best of 2017 List comes out Friday!
A great year for music, and even though I'll continue reviewing some of last year's albums, the list is almost ready. We will also post David Bash's best of List the following week. Stay tuned!