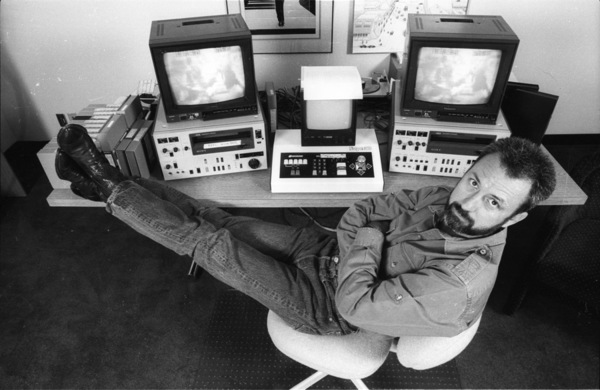 Michael Nesmith will receive the Ernie Kovacs Award on the evening of Saturday, Oct. 1, at the Kessler Theater by The Video Association of Dallas. Nesmith is being recognized for a career that spans more than 50 years, including acting, producing, songwriting and his breakout role with The Monkees band and widely popular 1960s TV show.
His other contributions in film, television and music include serving as executive producer of cult films REPO MAN, TAPEHEADS and TIMERIDER. Moreover he developed Pop Clips in 1980, which was the inspiration for MTV and his video "Cruisin" was Pop Clips first video. He won the first Grammy Award given for Video of the Year in 1981 for his hourlong Elephant Parts. He served on the board of trustees for the American Film Institute for 10 years. We sent him a few questions:
Where did you first get a taste of video and film direction? Was it from the Monkees TV show or even earlier? 
MN: It was mostly Monkees — although I did some work at the Dallas Theater Center that taught me a lot about the visual medium.
What was your opinion of TV legend Ernie Kovacs? Was he an influence on your work?
MN: He was a big influence on me — mostly because of the way he thought and his sense of the absurd. He woke me up to possibilities of the Television as an art form.
Music video was still an oddity back when you started — did you have others to help give you feedback on your work at the time?
MN: No, it was just me, William Dear and my wife at the time, Kathryn. We were in uncharted territory and none of us knew exactly what was going on.
Lol Creme and Kevin Godley (10cc) were also early music video artists, did you know them? Did they influence you in any way?
MN: I knew of them but we never met. I didn't know their work too well.
With YouTube and viral video apps where do you see the future of video going?
MN: Virtual Reality — more like video games are today but with much denser storytelling ability and the world that is created coming more to life — so different than now.
MTV is also trying to come back to the idea of music video again (full circle) — do you think it will influence music the way it did back in the early 80s?
MN: No — television is a different place now — and the Internet has taken over from them. No going back that I can see.

Thanks Michael and have fun on the Monkees tour promoting "Good Times"!